---

!
LOOK AT WHO IS BACK!!!!
FOR A LIMITED TIME ONLY!
MAJESTIC VIEW'S UNIQUELY BLUE!!!


MAJESTIC VIEW'S UNIQUELY BLUE
&
MAJESTIC VIEW'S TA TUNKA

HAVE A LITTER OF 4 NAS PUPS!
3 MALES & 1 FEMALE D.O.B. 11/13/17

​


MAJESTIC VIEW'S WINYAN HINTO (NAID FEMALE) WAS BRED BY
MAJESTIC VIEW'S RIVER ODYSSEY
​ FOR A LITTER OF 5 NAID PUPS 3 MALES 2 FEMALES BORN 10/11/17
NEW PHOTOS!!! NAID PUPPY SECTION

MAJESTIC VIEW'S SICAMNA (ALASKAN MALAMUTE FEMALE) WAS BRED BY MAJESTIC VIEW'S WOTONKA
(NAID MALE) FOR A LITTER OF 1 MALE BORN 10/17/17
NEW PHOTOS!!! ON THE ALASKAN INDIAN DOG PUPPY SECTION


ANNOUNCING A NEW ARRIVAL LITTER THE LAST LITTER OF SIBERIAN INDIAN DOGS WAS OVER 7 YEARS AGO! A LITTER OF 6 PUPS D.O.B. 11/02/17
PHOTOS OF M.V.'S HIDATSA BIRD WOMAN & PUPS CAN BE FOUND ON THE SIBERIAN INDIAN DOG
PUPPY SECTION !!! ​ NEW PHOTOS!!

Dear Karen, (2016)

Just wanted to share with you some news about Tango & Cha-Cha. In preparation for teeth cleaning, we had them go full physical, blood test, EKG and the works. The results have amazed us, although we were not surprised... The Vet concluded, based on the tests, Tango has a physique of a three (3) years old and Cha-Cha a physique of a four (4) years old. They possess very good genes. We were not surprise because even though they will be 12 in November, they don't look or behave their age. They are really amazing!
Have a great 4th and may God continue to guard and bless America. We need it with so many enemies within and abroad.
Aaron & Ilana



Dear Karen,
Another year, another set of photos. Tango & Cha-Cha are 13 years old in November…2017 based on their demeanor it is hard to believe they have reached this ripe age. Tango hasn't lost a bit, still agile, quick and mischief(some times). Cha-Cha has slowed down a bit but no one could believe she is more than 5. The main thing, they are HEALTHY, Happy and a joy to be with. Best decision we ever made is to get a pair of NAIDs. Thank you Karen.
Fondly,
Ilana, Aaron & the "kids"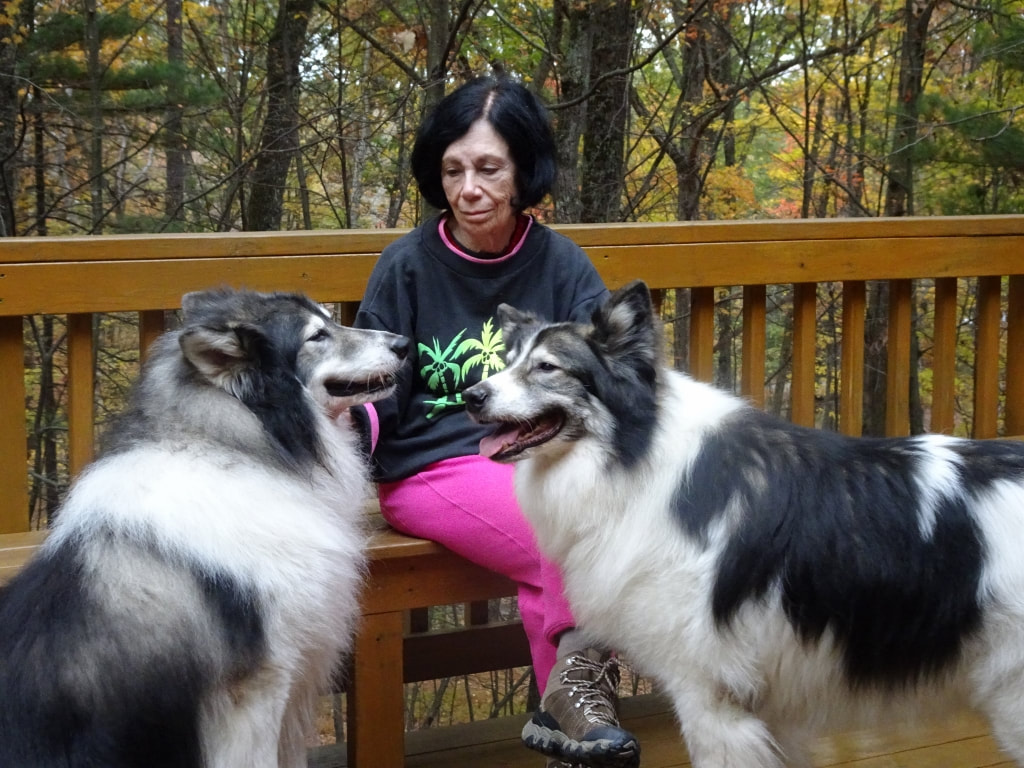 ​ M.V.K. RECENTLY HAD TO INCREASE THEIR KENNEL LICENSE CAPACITY AS IT HAS OVER 22 DOGS THAT ARE 10 YRS OLD AND OVER! PROOF OF THE NAID'S GENETIC SUPERIORITY, OVERALL EXCELLENT HEALTH AND LONGEVITY.

HARD TO COMPETE WITH
PERFECTION!!!

MAJESTIC VIEW'S UNIQUELY BLUE


BLUE HAS JUST SIRED HIS LAST LITTER OF PUPPIES! D.O.B. 07/02/15
​
BLUE BOY IS BACK!!! AND HAS A NEW LITTER EXPECTED MID-JULY!!!

A NATIVE AMERICAN SHEPHERD MALE A BIG BOY NOW HE OUT WEIGHS M.V.'S SOTA HOTA & M.V.'S FANTASTIC FIND!!

1) HAS DETECTED CANCER ON 3 PEOPLE SO FAR..

2) DETECTED FROST BITE ON A MAN'S GLOVED HAND

3) TOLD A WOMAN & HER HUSBAND THAT SHE WAS PREGNANT

4) CAN TELL IF A HUMAN IS GOING TO SLIP & FALL BEFORE IT HAPPENS & HAS REPEATEDLY RUN TO THE PERSON & PUSHED HIS BODY ON THEM TO BRACE THEM

5) KNOWS IMMEDIATELY WHERE SWELLING & INFLAMMATION IS LOCATED ON A PERSON

6) CAN DETECT ARTHRITIS & THE PAIN/INFLAMMATION CAUSED BY IT

7) IMPOSSIBLE TO HIDE A CUT OR A SCRATCH OR A BLEMISH FROM HIM NO MATTER HOW INSIGNIFICANT & SMALL


8) HAD A WOMAN VISIT SEVERAL TIMES AND EVERY TIME BLUE BOY WAS STICKING HIS NOSE IN HER BELLY AND LEAVING HIS NOSE ON A CERTAIN AREA,THEN HE WOULD SIT DOWN AND STARE RIGHT INTO HER EYES MAKING DIRECT EYE CONTACT.

A FEW WEEKS LATER, SHE CALLED ME AND SAID SHE WENT TO HER OB-GYN DOCTOR, BECASUE OF THE SEVERE PAIN AND CRAMPS SHE WAS EXPERIENCING. TESTS RESULTS SHOWED A LARGE MASS ON ONE OF HER OVARIES AND SHE HAD SURGERY ALMOST IMMEDIATLEY AFTERWARDS AND HAD THE MASS REMOVED. SHE TOLD ME SHE WOULD BE BACK FOR A BLUE BOY FOLLOW UP EXAM TO MAKE SURE EVERYTHING WAS FINE & HEALING AND TO MAKE SURE NOTHING ELSE WAS GOING ON IN HER BODY. UNIQUELY BLUE SENSED SOMETHING WAS WRONG EVEN BEFORE THE PAIN AND CRAMPING STARTED. WHAT A DOG!!


BLUE BOY HAS BEEN ADOPTED AND WILL BE USED AT A CHILDREN'S HOSPITAL IN THE CHICAGO AREA. GOOD LUCK MY BUDDY AND MAY GOD RICHLY BLESS YOU IN YOUR NEW LIFE AND OCCUPATION. MVK

PHOTO OF BLUE BELOW WHEN HE WAS 7 MONTHS OLD
PHOTO BELOW THAT WHEN HE WAS 1 YR. OLD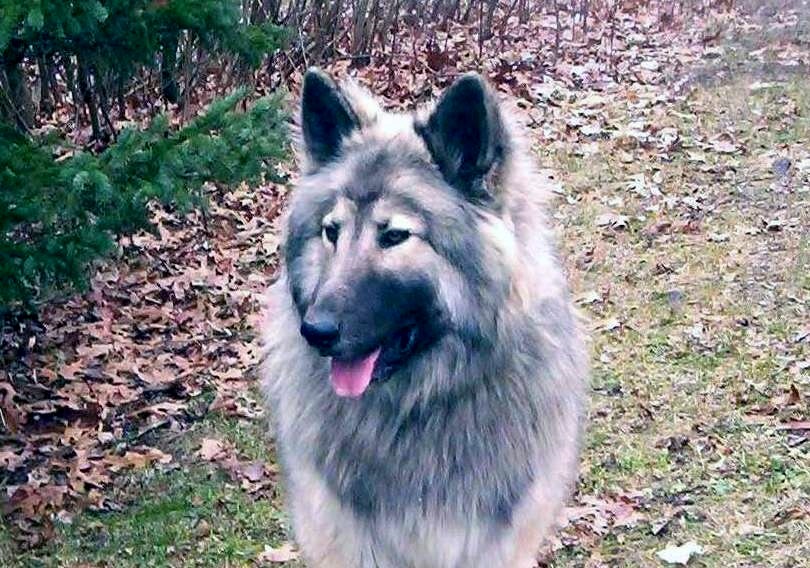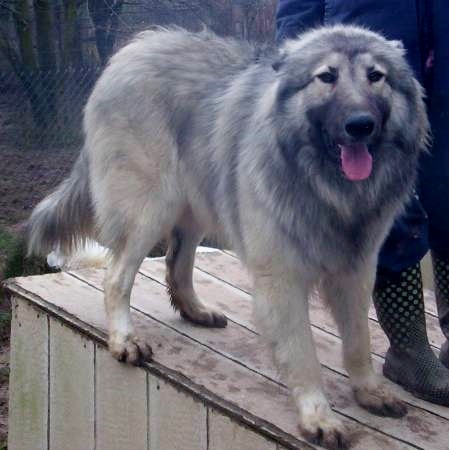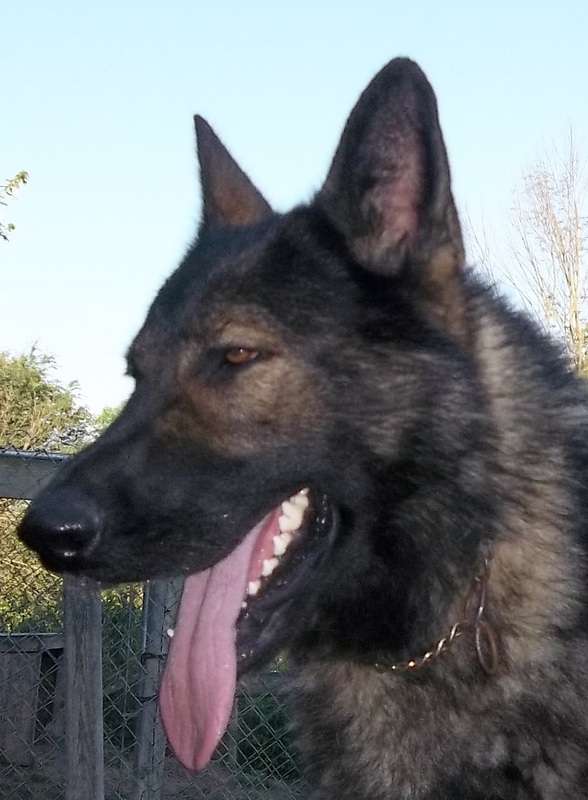 ​ UPDATE ALERT!!!

DUE TO

MAJESTIC VIEW'S INMUTANKA'S INTENSIVE,

SPECIAL TRAINING IN HUMAN PROTECTION, NARCOTICS AND THE DETECTION OF EXPLOSIVE DEVICES, "TANK'S" SERVICES HAVE BEEN REQUESTED BY LOCAL AND COUNTY LAW ENFORCEMENT TO SERVE, PROTECT & DEFEND HIS COUNTRY AND THE RESIDENTS OF THE UNITED STATES OF AMERICA.

HIS PRODIGY HE HAS LEFT BEHIND WILL BE AN EVERLASTING REMINDER AND MEMORY OF A GREAT MULTI-TALENTED CANINE AND SIRE.

WITH ONLY ONE MORE OF HIS LITTERS EXPECTED IN NOVEMBER 2014, THERE WILL BE NO MORE SHALOM SHEPHERD LITTERS SIRED BY TANK.

MAJESTIC VIEW KENNELS WISHES HIM LUCK, SAFETY AND HEALTH IN HIS ENDEAVORS TO ACCOMPLISH THE TASKS HE WAS BRED AND TRAINED TO ACHIEVE ....

NEWS UPDATE!!


TANK LEFT MAJESTIC VIEW KENNELS AND WENT TO KY TO A SPECIALTY CANINE TRAINING FACILITY FOR A 9 DAY REFRESHER COURSE BEFORE BEING CERTIFIED FOR NARCOTICS, EXPLOSIVE DEVICES AND PERSONAL PROTECTION, AS HE HAD OVER 6 MONTHS OFF HIS PREVIOUS TRAINING. HE ARRIVED IN KY. AT APPROXIMATELY 2 AM AND BY 10AM WAS ON THE COURSE TO START HIS 9 DAY NARCOTICS/EXPLOSIVE DEVICES REFRESHER COURSE. WELL, NO NEED, HE CERTIFIED IMMEDIATELY AND BROKE TWO OF THE TRAINING FACILITIES' SPEED RECORDS HELD IN TWO DIFFERENT DRUG CATEGORIES OUT OF THE SEVEN DRUGS HE HAD TO FIND.

THAT AFTERNOON, HE WENT TO THE "PERSONAL PROTECTION" TRAINING COURSE AND KNEW EVERY SINGLE GERMAN COMMAND, PERFORMED FLAWLESSLY, AND WAS IMMEDIATELY CERTIFIED AS WELL.

THE FOLLOWING DAY HE WAS LOADED UP IN A POLICE CRUISER AND DRIVEN TO NORTH CAROLINA, WHERE A WHOLE GROUP OF MILITARY PERSONNEL WERE ANXIOUSLY AWAITING HIS ARRIVAL. THE HEAD OF THE KY. CANINE TRAINING FACILITY HAD SAID HE HAD NEVER MET SUCH AN INCREDIBLY TRAINED CANINE WITH SUCH A MARVELOUS, FRIENDLY, OUTGOING DISPOSITION, AND THAT IF HE HADN'T BEEN ALREADY PROMISED TO THE BASE IN N.C. HE WOULD HAVE TRADED HIS OWN PERSONAL PROTECTION CANINE FOR TANK, IN A HEARTBEAT. SO, MAJESTIC VIEW IS SO VERY PROUD OF TANK AND EVEN THOUGH I MISS HIM SO VERY MUCH, I KNOW DOGS, AND WHAT MAKES THEM TICK.... ENOUGH TO PUSH ASIDE MY OWN SELFISH REASONS TO KEEP HIM FOR MYSELF, AS HIS PURPOSE IN LIFE HAD ALREADY BEEN PREDESTINED BEFORE I PURCHASED HIM AS AN INCREDIBLE BREEDING SIRE. I EVEN HAVE THE FEELING THAT SOMEDAY I AND THE WORLD WILL SEE THIS DOG ONE DAY ON TV, "JUST DOING HIS THING".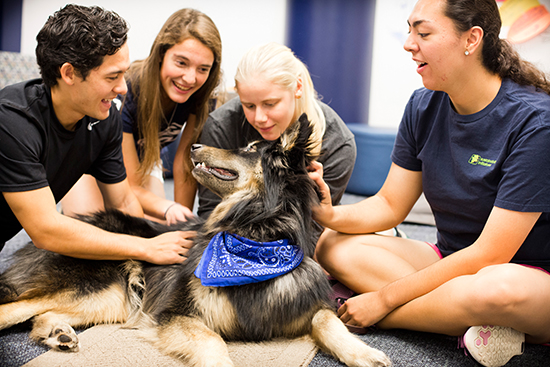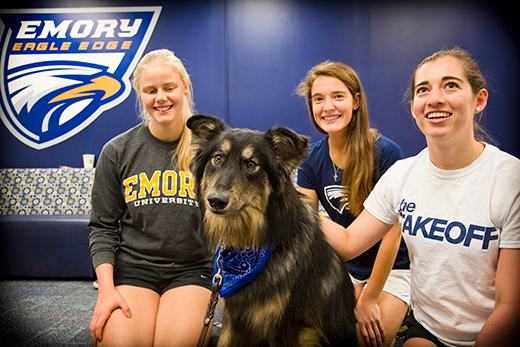 A day in the life of Emory's first full-time therapy dogBy Leslie King | Emory Report | Dec. 1, 2015
Beowulf, the newe
st
employee with Emory's Counseling and Psychological Services, is the university's first full-time therapy dog. Already a popular presence on campus, she interacts with counseling clients and visits informally with students during events and her daily walks. Emory Photo/VideoShareResources »Counseling and Psychological Services (CAPS)


Tags »University, Health, Student and Campus Life, Emory College
At 11:30 a.m. on a recent Tuesday, Colleen Duffy, a staff psychologist with Emory's Counseling and Psychological Services (CAPS), walks out of her office on Clifton Road.
Accompanying her is a big dog, Beowulf. But it's not a special case of Duffy being allowed to bring her dog to work.
Rather, Beowulf is the newest employee of CAPS — since Sept. 7, a contract clinician. A Native American Indian dog/ Golden Retriever mix, she's nine months old and still a puppy despite her size.
Beowulf and Duffy are taking their standard mid-day walk, heading up to the main area of campus, which they alternate with going to Lullwater Preserve. "She likes the lake there," Duffy says.
As they make their way over the bridge and down past the School of Medicine, Beowulf draws the attention of students walking past. She's wearing her vest that says she's a therapy-dog-in-training and her Emory ID.
Just around the corner from the Harland Cinema, a young child in a stroller stares delightedly at Beowulf, who seems to respond in kind.
Duffy takes Beowulf into the Dobbs University Center, where they begin by sitting on the steps inside. As students and staff members pass by and look at Beowulf, they are encouraged to pet her. Soon groups of up to five surround her, coming and going after petting her, shaking her paw, scratching her belly and getting some licks.
After a half-hour or so, Beowulf and Duffy move on, continuing their walk, then head back to the CAPS office to work.
Beowulf's working day "depends on what my client load looks like," says Duffy. "She may greet the clients, sit in her place next to my chair, sit at their feet, or they may pet her."Dogs can bridge that therapeutic relationship, and also many students on campus miss their dogs," Duffy adds. "That is something that can be incredibly comforting."
Out and about on campusLike many Emory employees, Beowulf attends meetings. On Tuesdays, she has two scheduled. "She has a place in the conference room," Duffy says.
Beowulf and Duffy also attend many events on campus.
"We've been to multiple events, at night, during the day, with hundreds of people. And she's calm. She can move through a crowd. And when people come to her, she'll have a big group of people petting her," says Duffy.
The pair attended the recent candlelight vigil in response to terrorist attacks around the globe. "Someone there had just suffered a loss (not related to the attacks) and she went straight to that person, so she was very attuned," Duffy notes.
The two have been to International Coffee Hour, Wonderful Wednesday, Take Back the Night, Gratitude for the athletics department and a number of other campus happenings.
"She even went out to dinner with a candidate we were interviewing," Duffy says.
Innovative therapyBeowulf, who lives with Duffy, is still undergoing training as a therapy dog.
Trainer Kimberly Brenowitz says she, Beowulf and Duffy work on techniques like pressure points. "If the dog places her head on a client's leg, the weight of the head and the warmth of her body reacts with the client's body," she explains. "If she stays there for 15 minutes, it creates a relaxation response."
Beowulf is hypo-allergenic, her trainer adds, so she won't trigger allergies from her clients. "That's hair, not fur," says Brenowitz, pointing to her coat of black with an underlay of gold, and accents of brown and white.
Duffy saw having a therapy dog as a "novel, innovative way to be creative outside of talk therapy and as an adjunct to that."
"Beowulf helps people say things and be helped in so many different ways," she explains. "They open that other doorway."
Wanda Collins, assistant vice president and director of CAPS, describes what might be dubbed "the Beowulf effect": "Anything that humanizes our office and makes it feel like an accessible, caring group of people —which now ironically happens through a dog — makes it easier for students to come in."
"There are only a handful of university counseling centers that have therapy dogs," Collins notes. "I think it's more common now at universities to bring in therapy dogs during finals week, but to have a dog full time on staff is exceptional."
Emory Law began hosting therapy dogs during exams in 2011, and Woodruff Library joined in a year later. At Emory's Oxford College, a petting zoo has been brought to campus during finals since 2012; it returns on Dec. 9 from 2-4 p.m. on the Oxford quad.
This year, Beowulf will join the other dogs at the Pet Therapy Study Break on Dec. 14 in the Jones Room of Woodruff Library.
"Around exam time, you get stressed and cranky, and that's the time these dogs really come into play. They'll help you unwind and get mellow," Brenowitz says.
Duffy and Beowulf will also be at the Cox Hall Computing Center on Thursday, Dec. 10, at 2 p.m.; Friday, Dec. 11, at noon; Tuesday, Dec. 15, at 2 p.m.; and Wednesday, Dec. 16, at noon.
Meanwhile, Beowulf is becoming a campus celebrity. "Every day we walk around campus," Duffy says. "The other day, we stepped outside the door and a crowd of students asked if she could sit with them — three steps outside the door and she's down with 10 people."
And if you see Beowulf as she works, you shouldn't be shy about approaching her. "She loves to say hello and it's OK to pet her," Duffy emphasizes. "She looks forward to meeting and working with Emory students!"
At present, she will remain the only canine on the job, as there are no current plans to bring in more therapy dogs.
"I think one is pretty darn fabulous," Duffy says.
Today's News »July 9There's a new face on the Emory campus—and this one has fur.The University's first full-time therapy dog joined the office of Counseling and Psychological Services in September. Beowulf, a Native American Indian dog / Golden Retriever just over a year old, already has become a welcome sight for students and faculty as she explores her new home—wearing her vest that says she's a therapy dog in training and her Emory ID.Beowulf is generally in the company of Colleen Duffy, a staff psychologist, who is in charge of caring for the dog. The two hold appointments with students, attend meetings, and take regular walks, stopping often to greet and socialize.The dog's working day "depends on what my client load looks like," says Duffy. "She may greet the clients, sit in her place next to my chair, sit at their feet, or they may pet her. That is something that can be incredibly comforting."
---





​MAJESTIC VIEW IS ON A MISSION TO BRING BACK FROM EXTINCTION, THE DOGS UTILIZED BY THE NATIVE AMERICANS FOR THOUSANDS OF YEARS.
WE ARE LOCATED IN THE SCENIC, TREE COVERED, ROLLING HILLS OF WEST MICHIGAN.



MAJESTIC VIEW'S HISTORY SECTION

IS BACK!!






SIT BACK AND ENJOY THE SLIDESHOW!!