2 NEW LITTERS CHECK THEM OUT!!

1 NAID LITTER(ALL SOLD!) & 1 NAS LITTER!!! 1 VERY SPECIAL MALE PUP LEFT!!

UNIQUELY BLUE HAS SIRED HIS LAST LITTER OF PUPPIES!!! THE UNIQUELY BLUE MALE LOOK-A-LIKE IS NOW AVAILABLE! $2500.00

HARD TO COMPETE WITH PERFECTION!

MAJESTIC VIEW'S UNIQUELY BLUE


BLUE HAS JUST SIRED HIS LAST LITTER OF PUPPIES! D.O.B. 07/02/15

A NATIVE AMERICAN SHEPHERD MALE A BIG BOY NOW HE OUT WEIGHS M.V.'S SOTA HOTA & M.V.'S FANTASTIC FIND!!

1) HAS DETECTED CANCER ON 3 PEOPLE SO FAR..

2) DETECTED FROST BITE ON A MAN'S GLOVED HAND

3) TOLD A WOMAN & HER HUSBAND THAT SHE WAS PREGNANT

4) CAN TELL IF A HUMAN IS GOING TO SLIP & FALL BEFORE IT HAPPENS & HAS REPEATEDLY RUN TO THE PERSON & PUSHED HIS BODY ON THEM TO BRACE THEM

5) KNOWS IMMEDIATELY WHERE SWELLING & INFLAMMATION IS LOCATED ON A PERSON

6) CAN DETECT ARTHRITIS & THE PAIN/INFLAMMATION CAUSED BY IT

7) IMPOSSIBLE TO HIDE A CUT OR A SCRATCH OR A BLEMISH FROM HIM NO MATTER HOW INSIGNIFICANT & SMALL


8) HAD A WOMAN VISIT SEVERAL TIMES AND EVERY TIME BLUE BOY WAS STICKING HIS NOSE IN HER BELLY AND LEAVING HIS NOSE ON A CERTAIN AREA,THEN HE WOULD SIT DOWN AND STARE RIGHT INTO HER EYES MAKING DIRECT EYE CONTACT.

A FEW WEEKS LATER, SHE CALLED ME AND SAID SHE WENT TO HER OB-GYN DOCTOR, BECASUE OF THE SEVERE PAIN AND CRAMPS SHE WAS EXPERIENCING. TESTS RESULTS SHOWED A LARGE MASS ON ONE OF HER OVARIES AND SHE HAD SURGERY ALMOST IMMEDIATLEY AFTERWARDS AND HAD THE MASS REMOVED. SHE TOLD ME SHE WOULD BE BACK FOR A BLUE BOY FOLLOW UP EXAM TO MAKE SURE EVERYTHING WAS FINE & HEALING AND TO MAKE SURE NOTHING ELSE WAS GOING ON IN HER BODY. UNIQUELY BLUE SENSED SOMETHING WAS WRONG EVEN BEFORE THE PAIN AND CRAMPING STARTED. WHAT A DOG!!


BLUE BOY HAS BEEN ADOPTED AND WILL BE USED AT A CHILDREN'S HOSPITAL IN THE CHICAGO AREA. GOOD LUCK MY BUDDY AND MAY GOD RICHLY BLESS YOU IN YOUR NEW LIFE AND OCCUPATION. MVK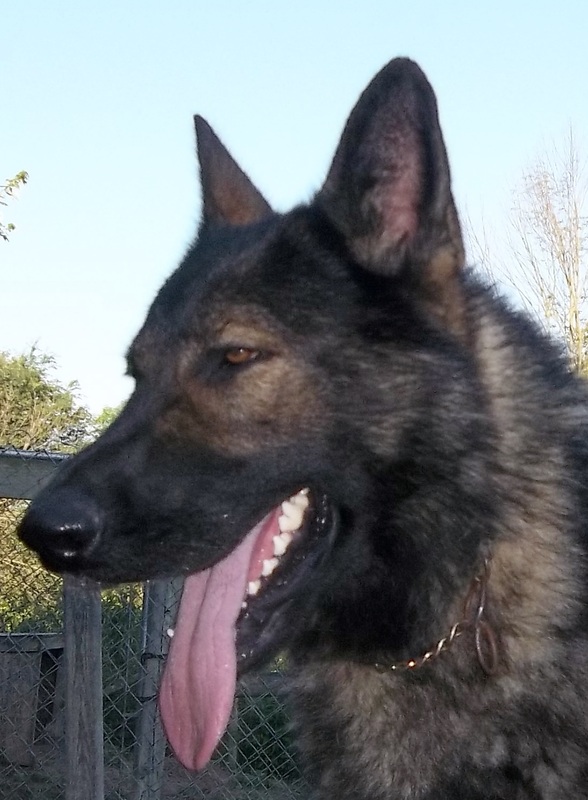 UPDATE ALERT!!!

DUE TO

MAJESTIC VIEW'S INMUTANKA'S INTENSIVE,

SPECIAL TRAINING IN HUMAN PROTECTION, NARCOTICS AND THE DETECTION OF EXPLOSIVE DEVICES, "TANK'S" SERVICES HAVE BEEN REQUESTED BY LOCAL AND COUNTY LAW ENFORCEMENT TO SERVE, PROTECT & DEFEND HIS COUNTRY AND THE RESIDENTS OF THE UNITED STATES OF AMERICA.

HIS PRODIGY HE HAS LEFT BEHIND WILL BE AN EVERLASTING REMINDER AND MEMORY OF A GREAT MULTI-TALENTED CANINE AND SIRE.

WITH ONLY ONE MORE OF HIS LITTERS EXPECTED IN NOVEMBER 2014, THERE WILL BE NO MORE SHALOM SHEPHERD LITTERS SIRED BY TANK.

MAJESTIC VIEW KENNELS WISHES HIM LUCK, SAFETY AND HEALTH IN HIS ENDEAVORS TO ACCOMPLISH THE TASKS HE WAS BRED AND TRAINED TO ACCOMPLISH....

NEWS UPDATE!!


TANK LEFT MAJESTIC VIEW KENNELS AND WENT TO KY TO A SPECIALTY CANINE TRAINING FACILITY FOR A 9 DAY REFRESHER COURSE BEFORE BEING CERTIFIED FOR NARCOTICS AND PERSONAL PROTECTION, AS HE HAD OVER 6 MONTHS OFF HIS PREVIOUS TRAINING. HE ARRIVED IN KY. AT APPROXIMATELY 2 AM AND BY 10AM WAS ON THE COURSE TO START HIS 9 DAY NARCOTICS REFRESHER COURSE. WELL, NO NEED, HE CERTIFIED IMMEDIATELY AND BROKE TWO OF THE TRAINING FACILITIES' SPEED RECORDS HELD IN TWO DIFFERNET DRUG CATEGORIES OUT OF THE SEVEN DRUGS HE HAD TO FIND.

THAT AFTERNOON, HE WENT TO THE "PERSONAL PROTECTION" TRAINING COURSE AND KNEW EVERY SINGLE GERMAN COMMAND, PERFORMED FLAWLESSLY, AND WAS IMMEDIATLEY CERTIFIED AS WELL.

THE FOLLOWING DAY HE WAS LOADED UP IN A POLICE CRUISER AND DRIVEN TO NORTH CAROLINA, WHERE A WHOLE GROUP OF MILITARY PERSONNEL WERE ANXIOUSLY AWAITING HIS ARRIVAL. THE HEAD OF THE KY. CANINE TRAINING FACILTY HAD SAID HE HAD NEVER MET SUCH AN INCREDIBLY TRAINED CANINE WITH SUCH A MARVELOUS, FRIENDLY, OUTGOING DISPOSISTION, AND THAT IF HE HADN'T BEEN ALREADY PROMISED TO THE BASE IN N.C. HE WOULD HAVE TRADED HIS OWN PERSONAL PROTECTION CANINE FOR TANK, IN A HEARTBEAT. SO, MAJESTIC VIEW IS SO VERY PROUD OF TANK AND EVEN THOUGH I MISS HIM SO VERY MUCH, I KNOW DOGS, AND WHAT MAKES THEM TICK.... ENOUGH TO PUSH ASIDE MY OWN SELFISH REASONS TO KEEP HIM FOR MYSELF, AS HIS PURPOSE IN LIFE HAD ALREADY BEEN PREDESTINED BEFORE I PURCHASED HIM AS AN INCREDIBLE BREEDING SIRE. I EVEN HAVE THE FEELING THAT SOMEDAY I AND THE WORLD WILL SEE THIS DOG ONE DAY ON TV, "JUST DOING HIS THING".







MAJESTIC VIEW IS ON A MISSION TO BRING BACK FROM EXTINCTION, THE DOGS UTILIZED BY THE NATIVE AMERICANS FOR THOUSANDS OF YEARS.
WE ARE LOCATED IN THE SCENIC, TREE COVERED, ROLLING HILLS OF WEST MICHIGAN.



MAJESTIC VIEW'S HISTORY SECTION

IS BACK!!






SIT BACK AND ENJOY THE SLIDESHOW!!